Premier League in 90 Seconds: Manchester's lopsided derby
The Exploding Heads explore the many reactions to the Manchester derby and Sol Bamba's extraterrestrial celebration over the Premier League weekend.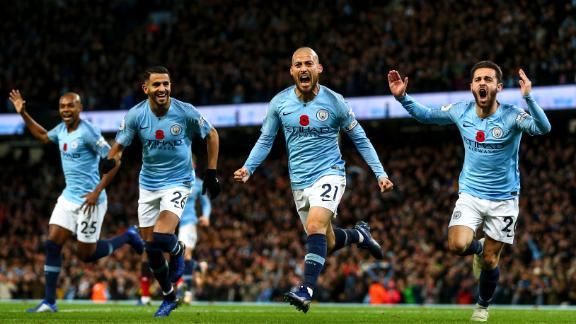 Marcotti: Boca, River deliver 'absolutely rocking' first leg
Gab Marcotti breaks down the first leg of the Copa Libertadores final, a 2-2 thriller between eternal rivals Boca Juniors and River Plate.
Quick Questions with Axel Witsel
Axel Witsel sits down with Raphael Honigstein to answer some quick questions outside of football.
Top of the Premier League taking shape
Craig Burley reveals his biggest takeaways from week 12 in the Premier League, including Liverpool's quest to keep up with leaders Man City.
MLS Best XI: Which star would Paul Mariner build around?
Paul Mariner breaks down the MLS Best XI for the 2018 season and reveals which superstar in the XI he would build his team around.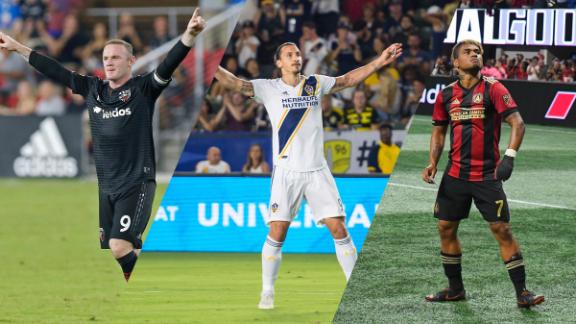 Atlanta 3-1 NYCFC: Five Stripes surge into last 4
Sporting KC 4-2 RSL: Sporting survive wild second leg
Sporting KC held on for dear life in the second leg of the Western Conference semifinals against RSL, fending off their rivals in a dramatic win.
New York Red Bulls 3-0 Columbus: Royer provides the spark
Daniel Royer's pair of second-half goals saw the New York Red Bulls overturn a first-leg deficit and advance into the Eastern Conference finals.
Rooney: DC need to build on playoff disappointment
DC United's Wayne Rooney insists the side will take confidence from reaching the playoffs after he felt they exceeded their expectations.
Almiron, Martinez explain how Atlanta prevailed vs. NYCFC
Sebastian Salazar catches up with Josef Martinez and Miguel Almiron, after the star duo powered Atlanta United to the Eastern Conference finals.
Seattle 3-2 Portland: Timbers advance on penalties
A crazy night in Seattle saw Dairon Asprilla and the Portland Timbers defeat the Sounders on penalties to advance to the Western Conference final.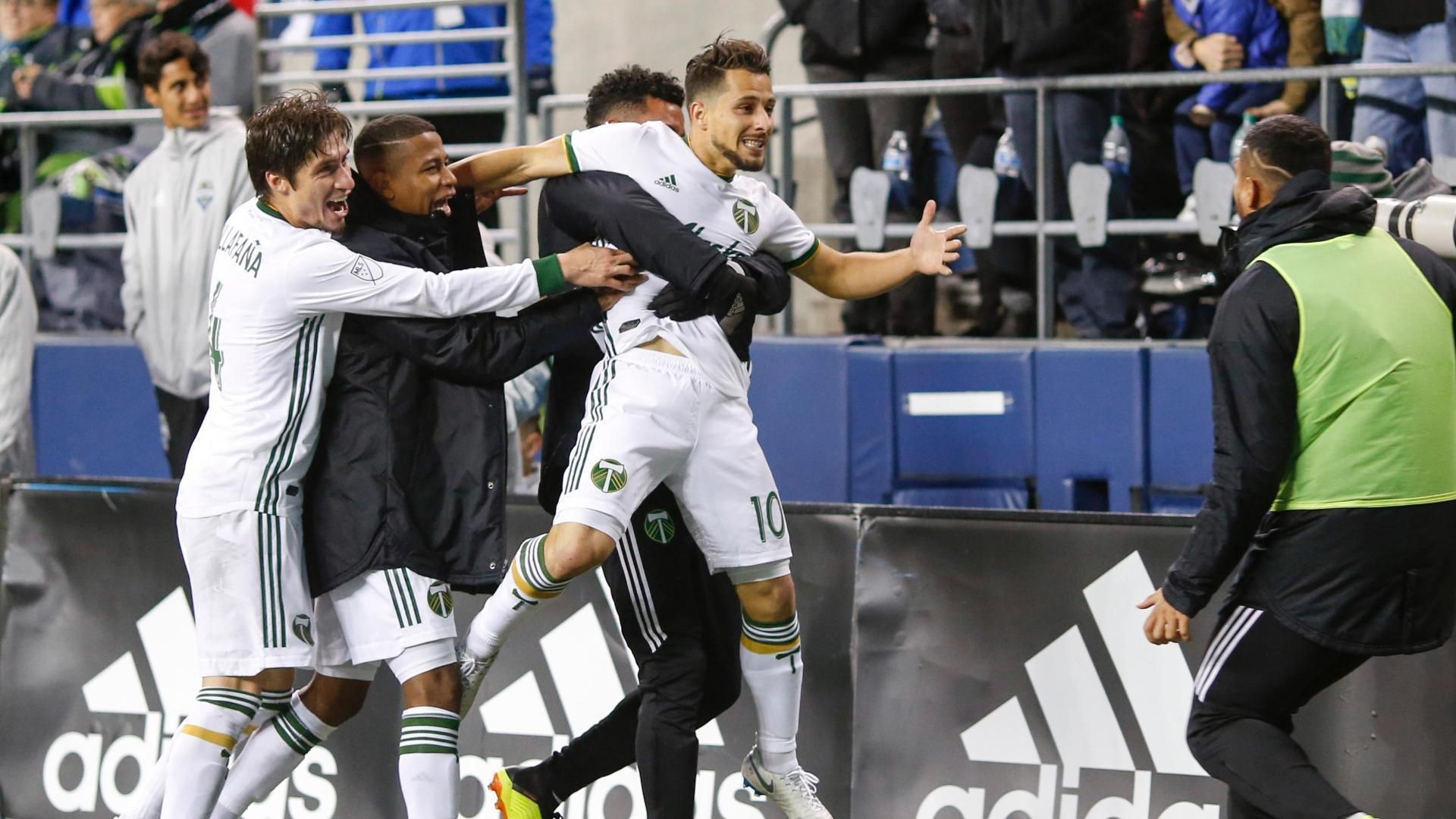 Gomez: Leg 2 of Seattle-Portland 'had all the works'
Herculez Gomez and the FC crew break down a wild night in Seattle that saw the Sounders knocked out of the MLS Cup Playoffs by arch rivals Portland.
Moreno: Galaxy need Ibrahimovic more than he needs them
ESPN FC's Alejandro Moreno gives his thoughts on Zlatan Ibrahimovic's precarious situation at LA Galaxy.
Prem: Top goals from Week 12
Relive the top strikes from Week 12 of the 2018-19 Premier League season, which include a side-footed volley from Liverpool's Xherdan Shaqiri.
Manchester City 3-1 Manchester United: Aguero powers City
David Silva, Sergio Aguero and Ilkay Gundogan all scored for Manchester City as they dominated Manchester United in a 3-1 victory.
Milan 0-2 Juventus: Juve's dream, Higuain's nightmare
Gonzalo Higuain lived out a nightmare at the San Siro, missing a penalty and seeing red in Milan's loss to his former side, Juventus.
Arsenal 1-1 Wolves: Mkhitaryan rescues point for the Gunners
Henrikh Mkhitaryan netted a late equaliser to salvage a point for Arsenal in a 1-1 draw with Wolverhampton.
Top 5 Serie A goals of the week
Stephan El Shaarawy scored with a brilliant chip in Roma's rout of Sampdoria, but was it the top goal in Serie A on Matchday 12?
Prem: Top saves from Week 12
Relive the top stops from Week 12 of the 2018-19 Premier League season, including a diving save from Everton's Jordan Pickford against Chelsea.
AS Monaco 0-4 PSG: Cavani scores 3
Edinson Cavani scored a hat-trick, while Neymar converted a penalty to help Paris Saint-Germain come away victorious against a hapless Monaco.
Liverpool 2-0 Fulham: Salah, Shaqiri star for Liverpool
Mohamed Salah scored seconds after a Fulham goal was disallowed, and Xherdan Shaqiri doubled the lead in the 2nd-half as Liverpool beat Fulham 2-0.
Roma 4-1 Sampdoria: El Shaarawy dazzles for Roma
Stephan El Shaarawy scored twice, including a spectacular chip, as Roma dominated Sapdoria with a 4-1 victory.
Atalanta 4-1 Inter: Set pieces lift Atalanta
Josip Ilicic provided two assists from set pieces, and Alejandro Gómez netted a dazzling goal as Atalanta defeat Inter 4-1.
Crystal Palace 0-1 Tottenham: Foyth wins it for Spurs
Juan Foyth's first-ever goal for Tottenham gave his side a deserved 1-0 at Selhurst Park against a listless Crystal Palace
Leicester 0-0 Burnley: Foxes held on poignant day
In Leicester's first home game since the passing of Vichai Srivaddhanaprabha, they were unable to get the win against a stout Burnley.
Transfer Rater: Sanchez to PSG? Lewandowski to leave Bayern?
Paul Mariner assesses the latest transfer rumours, including the chances Alexis Sanchez, Robert Lewandowski and Patrik Schick make moves in January.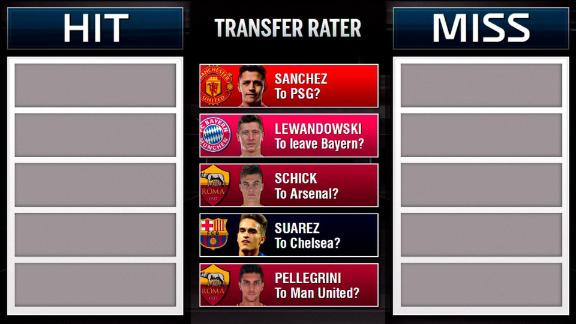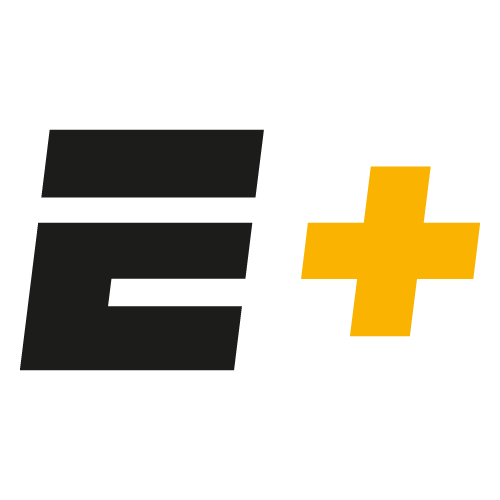 espn fc tv
Extra Time: Is Serie A over? Should Henry be sacked?
The guys respond to your tweets about Craig Burley working on a Sunday, the Scudetto race, Thierry Henry at Monaco and Arsene Wenger to Bayern Munich.
Nicol: Man United never posed a question to Man City
Steve Nicol and Craig Burley examine Manchester City's dominance of rivals Man United in a 3-1 derby win that showed the gulf between the two sides.
Has Solari earned an extended run as Real Madrid boss?
As Real Madrid prepare to take the next step in replacing Julen Lopetegui, the FC crew discuss whether Santi Solari has earned a shot at the job.
Betis loss shows Barca's defensive woes, preparation issues
After Barcelona's home defeat to Real Betis, the FC crew examine the club's issues in the back, and Gab Marcotti questions their preparation.
Milan no match for Juve as Higuain sent off
Juventus asserted their dominance at the San Siro, but the FC crew give credit to Milan for keeping the match close in an adverse situation.
Marcotti: Boca, River deliver 'absolutely rocking' first leg
Gab Marcotti breaks down the first leg of the Copa Libertadores final, a 2-2 thriller between eternal rivals Boca Juniors and River Plate.
ESPN FC Best of the Week
Check out the best moments from ESPN FC over the past week, including Stevie miming a clown, Shaka's vast Europa League knowledge and more.
Extra Time: Super League, Mourhino and more
The FC crew answer your questions about the potential European Super League, Jose Mourinho and much more!
Dortmund twice come from behind to beat Bayern
Shaka Hislop recaps Borussia Dortmund's thrilling 3-2 win over rivals Bayern Munich in Der Klassiker.
Burley: England shouldn't be celebrating any player
Craig Burley believes England hosting a 'farewell' game for Wayne Rooney makes a mockery of their friendly match against the United States.
Extra Time: Firmino declining? Arsenal to win the Europa League?
The FC crew respond to your tweets about Liverpool, Arsenal and much more on today's edition of Extra Time.
Lowe: Solari has reached Real Madrid's dressing room
Sid Lowe breaks down what Santiago Solari has done to get the best out of Real Madrid, with the club winning his first three matches in charge.
ESPN Fantasy Football promo

Manage your squad in the Premier League, Champions League, La Liga and Liga MX.

Freak City for ESPN

Deliberate isolation. Petty feuds. Constant turmoil. The Manchester United manager wouldn't have it any other way.

Filippo Monteforte/AFP/Getty Images

Roma beat Lazio, but the derby doesn't end, it merely pauses. Because like the city that birthed both clubs, it is eternal.

Aurelien Meunier/Getty Images

When you win the World Cup at 19, where is left to go? This is the challenge -- and possible nightmare -- facing Kylian Mbappe, writes Simon Kuper.

Angel Martinez/Real Madrid via Getty Images

The biggest problem with the Champions League is that it's trying to be everything to everyone. It's time for the tournament to go rogue.

ESPN Illustration

Ten years ago, Sheikh Mansour of Abu Dhabi bought Man City, transforming the club from Premier League punchline to a dynasty in the making.

VCG

"I feel like people at Liverpool and Man City are looking at us and laughing like we did at them many years ago." Andy Mitten sits with the Man United legend.

Getty

Welcome to the life of the third-choice goalkeeper, football's version of the perpetual understudy.

ESPN

Getty

Nick Hornby: This summer had English fans believing again. But was the team's semifinal run really that impressive?

Marvel

It might not be part of the traditional comic book universe, but Marvel laced up its boots to bring you the epic stories in Russia.

Dave Merrill

"I never walk out of games early but in these circumstances, staying seemed like a form of self-harm." Nick Hornby on the last days of Wenger.

USA Today

Who should be blamed for the U.S.' World Cup qualifying failure? Do young American players get sufficient playing time? What about pro / rel, salaries and dream signings?

Trey Ingram

Our intrepid writer suffers -- and suffers some more -- through a player medical at Everton.

Brian Konnick

We select the best players under 21 who are primed to rule the football galaxy.

ESPN

MLS Rivalry Week is full of contentious clashes. Here are some of the best in unique video game format. Ready ... FIGHT!

EPA/FERNANDO BIZERRA JR

In November 2016, Brazilian underdogs Chapecoense boarded a plane to play in the game of their lives. Instead, their biggest moment turned into a tragedy no one can forget.

Getty

Check out the completed deals from all the major leagues this summer.

Getty

Keep track of all the important upcoming fixtures in the Premier League, Champions League, La Liga, English Football League and more.

Getty

Results and scores from the Premier League, Champions League, La Liga, English Football League and more.

Getty

Updated tables from the Premier League, Champions League, La Liga, English Football League and more.
Customize ESPN